REPUBLIC DAY CELEBRATIONS
 Republic Day was celebrated on 26th January 2023 with great zeal and spirit. The Principal unfurled the National Flag amidst loud cheers followed by National Anthem. The staff and students then moved to the Ratnajyoti Kridangan to participate in the Republic Day celebration of RGPPL. The children participated in the cultural programme i.e. Parade, patriotic song and skit.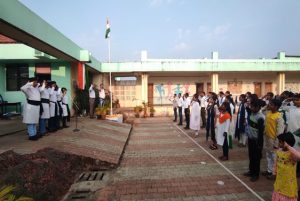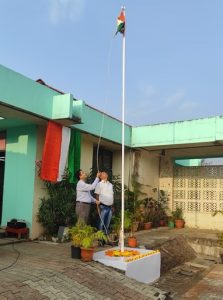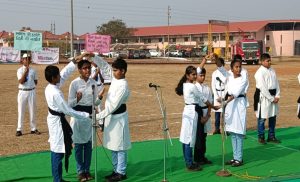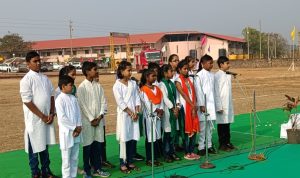 CHRISTMAS DAY 2022-23
Christmas day was celebrated on 23/12/2022 in which the students participated in different activities.Class PS & PP presented an action song on Jingle Bells,  students of Class II & III performed the dance on 'Joy to the World' and Class IV & V students performed the dance on 'All I want for Christmas is You' reading from Bible by class VIII students, and two carol songs by class V and X students. Overall the program was a nice, colorful and melodic event.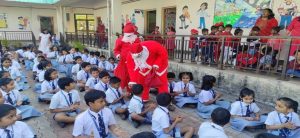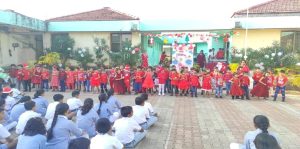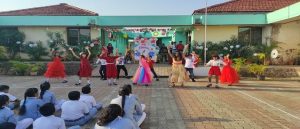 CELEBRATING  NATIONAL SPORTS DAY-2022
  "Courage, sacrifice, determination, commitment, toughness, heart, talent, guts. That's what little players are made of; the heck with sugar and spice."           
Games and sports are an integral part of a student's life. Sport is certainly an excellent tool to build self-confidence. Playing Sports increases confidence to talk properly. A sport certainly improves the skills of communication and overall persona. Now a days, Sports and games are taken to be a good career option. So, the Sports Department of Bal Bharati Public School, Ludhiana put-on efforts to develop the sportsmanship spirit among students with the help of Sports events. National Sports day was celebrated with utmost exuberance on August 31, 2022. The event began at 7 am in the school playground by torch bearing by the Sports captain of the school followed by the oath ceremony by all the participant players. Then, the school Principal Mr. Ashish Sawhney addressed the gathering and allowed the event to begin. The running events comprised 100-metre race for classes IV, V, VI, VII, VIII and IX, 200-metre races for classes VI, VII, IX and X. Then the next event was Relay race for classes IV, V, VI, VII, VIII and IX. The enthusiasm of the players was worth watching. They all cheered for their favourites. The competitors tried hard to excel in each of the events.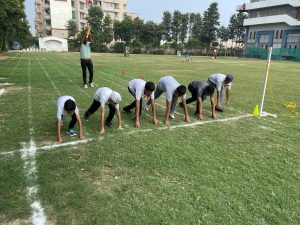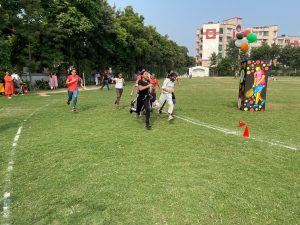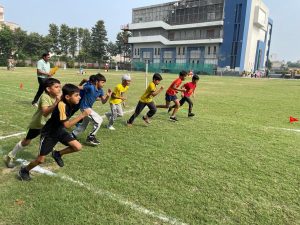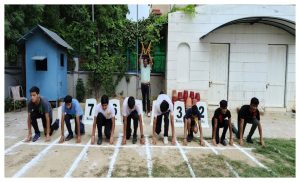 CLASS PRESENTATIONS
It is verifiable that one learns more when one is girdled by people, similar in age, social status or interests. Peers can influence each other's attitudes, behaviors, and values, providing emotional support and social validation. In a quest to carve our aspiring learners to a self-assured paragon, Bal Bharati Public School, Ludhiana provides every possible setting in which learners could burgeon infinitely.
Learners participated in class presentations and showcased their creativity, knowledge, research, and ideas with their peers, developing essential social, communication and presentation skills. 
In one event, all the learners participated in a Yoga activity where they practiced various yoga asana in nature's lap which not only benefited them physically but also gave them a soulful experience.
In another event, they all exhibited their culinary skills by participating in Salad making competition. They prepared some delectable dishes and also assisted others who needed assistance. These presentations provided them a platform to learn and flourish in a healthy sphere, developing inter-personal skills like team-work, leadership, adaptability etc.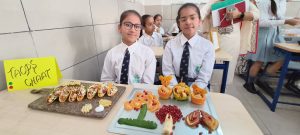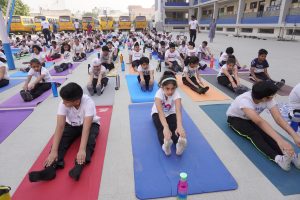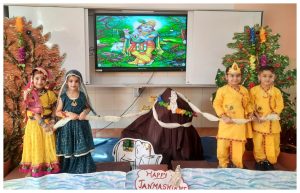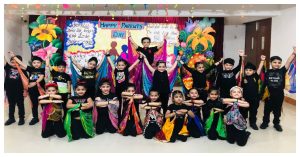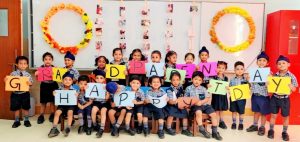 DRAMATICS 
"The stage is not merely the meeting place of all the arts, but is also the return of art to life." - Oscar Wilde
Dramatics is a rich and complex art form that has captivated audiences for centuries. It is a way not only to express but also to educate in an entertaining way. Drama can be used as a tool for education, allowing students to explore and understand different historical and cultural perspectives. It can also help to develop critical thinking skills and promote lifelong learning.
Bal Bharati Public School, Ludhiana focuses on honing multifarious skills in their learners and turning them future ready. Dramatics is one of them. On numerous events, one-act plays, dramas and Nukkad Natak were methodized to unveil the importance of learning with artistic expression. 
On Independence Day, inter-house One-act play competition was organized where students presented their acts focusing on the ideals that make India a beacon of hope and freedom to people around the world. They presented the scenes of India's struggle for freedom and moved the audience with their acts.
On Gandhi Jayanti, a theatrical act was presented showcasing the life of Father of the Nation: Mahatma Gandhi which mesmerized the audience. 
These events provided a platform to learners to express themselves creatively and explore their emotions in a safe and supportive environment. Through these acts, they developed self-awareness, confidence, and communication skills.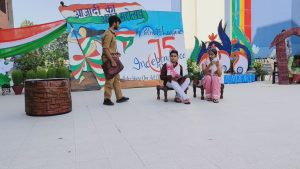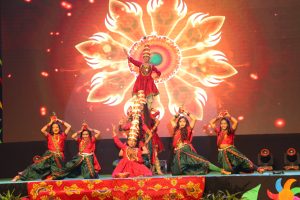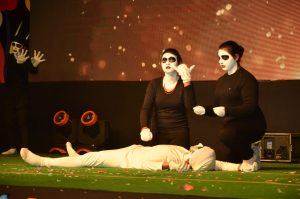 SRISHTI .. THE SAGA OF LIFE 
BBPS Anuppur celebrated Srishti..The Saga of Life, the 5th Annual Day & Prize Giving Ceremony on 30th November 2022. Mr. B. K. Mishra, Plant Head & COO, HPPPL marked his presence as the chief guest. Other guests from MBPMPL & the local administration were also present. The programme aimed at the significance of nature conservation.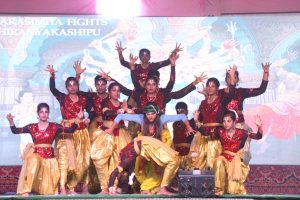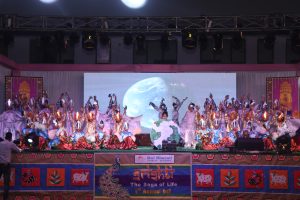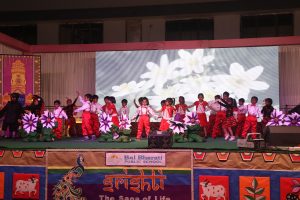 GRADUATION CEREMONY
Graduation Day was Organised for the Pre-primary students on 24th March 2022. The Guests Mrs. Nimmi Mishra, Mrs. Preeti Chopde & Mrs. Madhu Khatana graced the occasion and appreciated the children and teachers for the personal touch and happy environment in the school. They enjoyed the fun filled performance of the children and were impressed with the fearless expressions of the little champs of BBPS.
Finally, the students were conferred with Report Cards.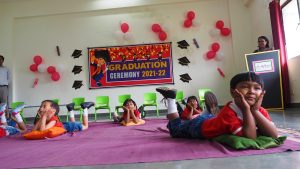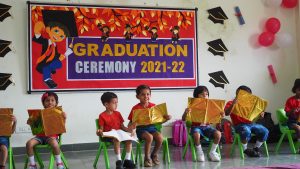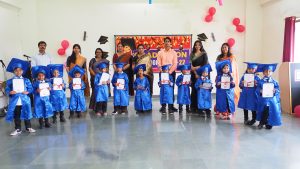 INTERNATIONAL OLYMPICS DAY 2022
BBPS Anuppur also celebrated International Olympic Day on 23rd June 2022 with a very jovial cycling activity by the students of class VI – XII which was led by Shri B. K. Mishra, Plant Head, Shri R. K. Khatana, GM, HR & Admin, the Principal and many other invited guests. The students then participated in a friendly football match.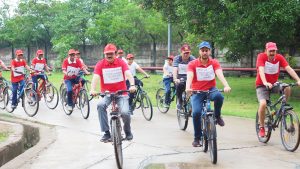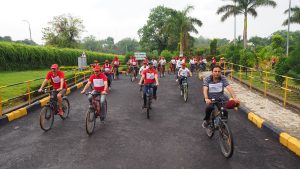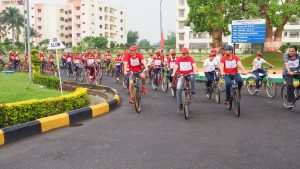 DAUD
A Mini Marathon which was held in Bal Bharati Public School Nabinagar created such a buzz that it was glorified in the weekly newspaper for organizing such a huge event.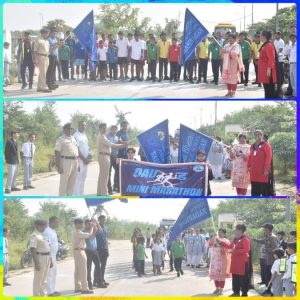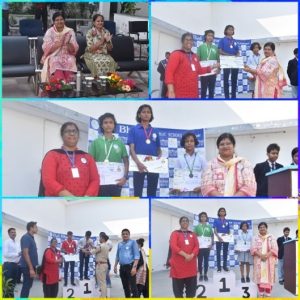 ASHIRWAD CEREMONY - SUBHASHISH 2023
Like every school Bal Bharati Public School Nabinagar also witnessed a tradition of Ashirwad Ceremony along with  farewell by the  junior students to their senior most and outgoing students.  Every student who begins school life must end it one day. During the Ceremony an emotionally charged atmosphere surrounds the school because the students felt very sad and nostalgic to leave the premises to continue their studies further by taking admission in other institutions.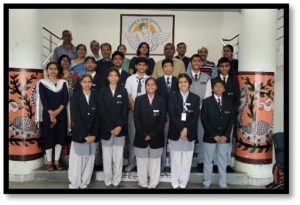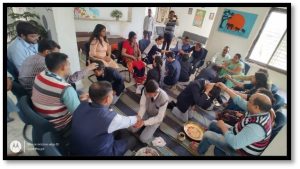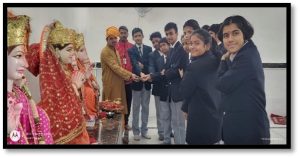 TEACHERS' DAY CELEBRATIONS 
Teachers Day was celebrated in Bal Bharati Public School Nabinagar, where the student council organized the whole function for their beloved teachers with lots of fun activities.  The teachers also took part with great zeal and enthusiasm making the event a huge success.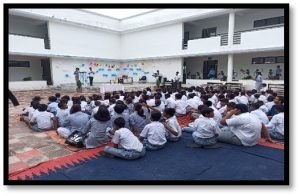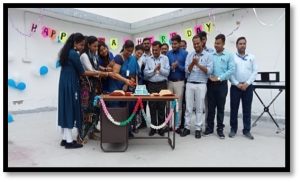 ANNUAL SPORTS DAY
BBPS Neelbad , Bhopal  organized an Annual Sports Meet on 17th Feb 2023. The chief guest for the occasion was Dr. B.S. Bhadoria, who declared the sports meet open. Several events were conducted with the help of teachers and PTI. Special games were incorporated for parents, teachers and housekeeping staff members. Trophies, medals and certificates were awarded to the winners. The chief guest encouraged all the participants by his inspiring words and praised the event.  The annual sports meet was a grand success and appreciated by the parents and guests.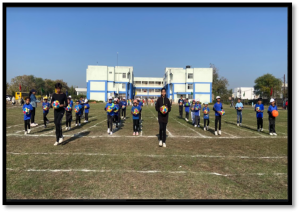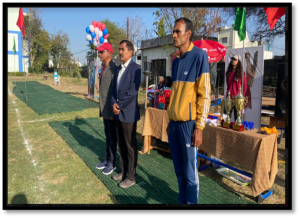 SCHOOL PARLIAMENT 
Peter Drucker quoted, 'Leadership is lifting a person's vision to high sights, the raising of a person's performance to a higher standard, the building of a personality beyond its normal limitations.' To inculcate leadership,BBPS NTPC Jhanor forms a School Parliament every year and provides the students an opportunity to learn leadership at a very young age.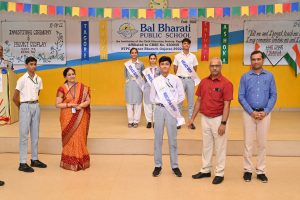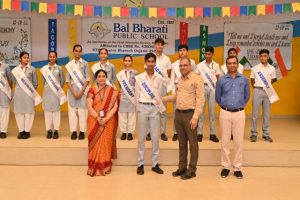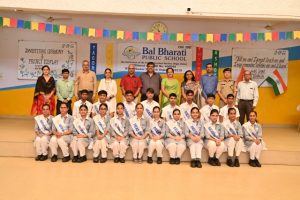 CELEBRATING HINDI DIWAS
Celebrating festivals and events at BBPS, NTPC Jhanor  has become an indispensable part of education and creating a strong cultural belief. Such celebrations bring the feelings of oneness. Apart from it, celebrating different social and religious festivals in school instills respect for the culture and traditions, religions of each other. 
On such occasions, special assemblies are held and led by the students. As Hindi enjoys her prestigious place in our school, Hindi Diwas is celebrated with varied activities and competitions. Celebration of days and festivals is a great way to comprehend the rich heritage of India and learn about the importance of various festivals.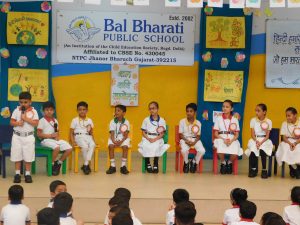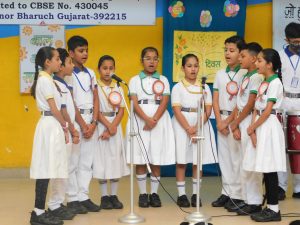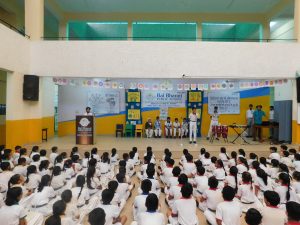 DRAMATISATION
In the educational system for youngsters, dramatisation is important. It enhances pupils' vocabulary, language proficiency, and cognitive approach. Getting kids involved in dramatisation increases their self-confidence and  enhances students' cultural, social, and emotional competencies A lot of drama/skit-related activities were organized at BBPS, Gadarwara  in English and Hindi both where the students participated in different role play and built a positive attitude and self-assurance.
Street Play On Social Cause (25th April 2022, Participating Classes: IX-X (32 students)
Drama on Panchtantra ki Kahaniyan (21st January 2023, Participating Classes, III-V (40 students)
A dance drama on Dusshera (19th September 2022, Participating Classes: VI-VIII (40 students)
English play on 'Save Trees'. (1st February 2023, Participating Class VI, 15 students)
The kids had to play out the parts so they could learn more about the historical figures, occasions, episodes, etc. The kids are actively interested because they can relate to the roles they play on an emotional level. It is fun and sparks children's interest because there is a variation from the usual educational methods.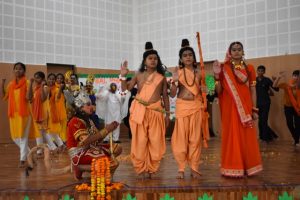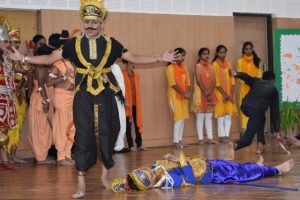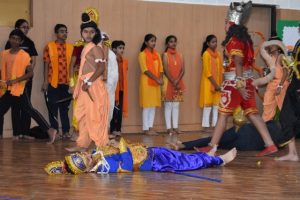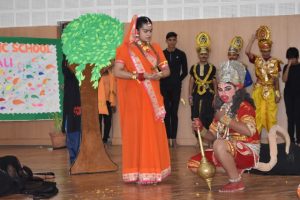 ANNUAL DAY
12th January 2023
Participating Classes: PS – XI (350 students)
The second Annual Function of Bal Bharati Public School, NTPC Gadarwara was celebrated on 12 January 2023 which was a grand celebration as the school could celebrate, remember, acknowledge, and admireits achievement after 2 years of the pandemic when everything stood still
The event was graced by many eminent guests, the chief guest was MR. KAMLESH SONI,CGM, NTPC GADARWARA and Guest of honor MRS. ANU SONI,PRESIDENT (AVNI MAHILA MANDAL), It started with acknowledging 75 years of Azadi Ka Amrit Mahotsav, then appreciating the vision of Child Education Society, the apex body of Bal Bharati Public Schools, then the Women Empowerment which was the central theme of the function.
The main event 'Punyashlok: Naritva Ki Pehchaan' was a dance drama performed on the life of Ahilya Bai Holkar who was a feminist figure who devoted her life to defeating patriarchal aggression and establishing women's rights at a time when women were confined to the four walls of their houses. She was a perfect example of true feminism. The dance drama was a show-stopper.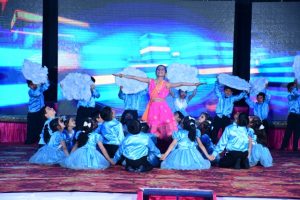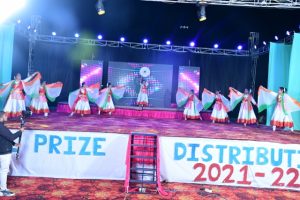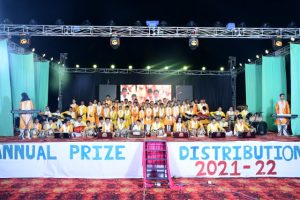 ANNUAL PRIZE DISTRIBUTION
Annual Prize Distribution for the session 2021-22 was held in Bal Bharati Public School, Brij Vihar, on Saturday, 21st January 2023.The programme commenced with the lighting of the lamp followed by Ganesh Vandana. 
The musical extravaganza ' Caravan' , an amalgamation of Indian and Arabic music mesmerized the audience. ' Guru Mahima' a fusion of classical and contemporary dance forms ,celebrated the relationship of the students with the guru. 
Meritorious students in academics, co- curricular activities and sports were felicitated on the occasion. The Principal, Mr Arvind Bhatia, appreciated the diligence and hard work of the students and motivated them to strive for excellence. The programme concluded with the rendition of the National Anthem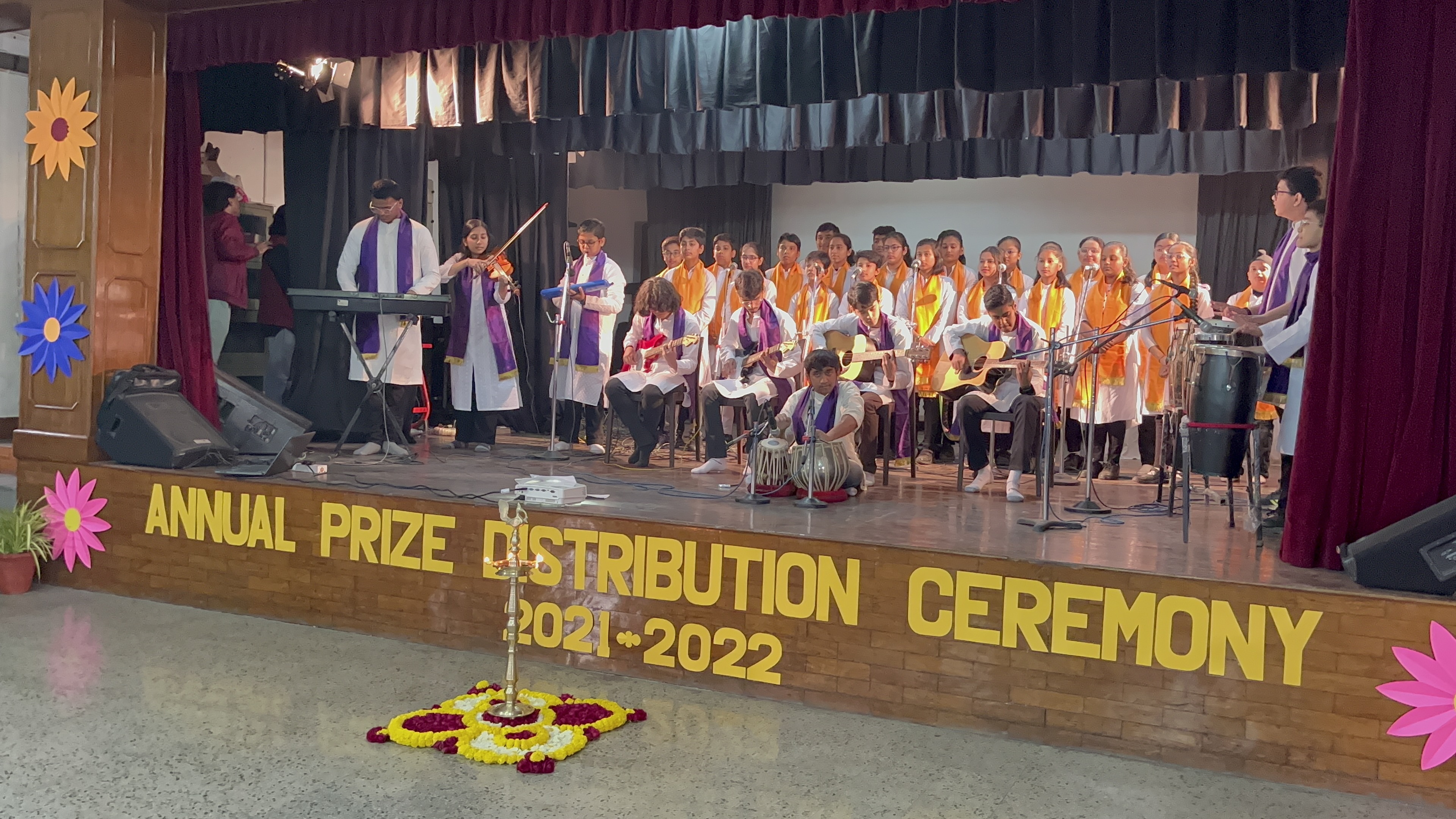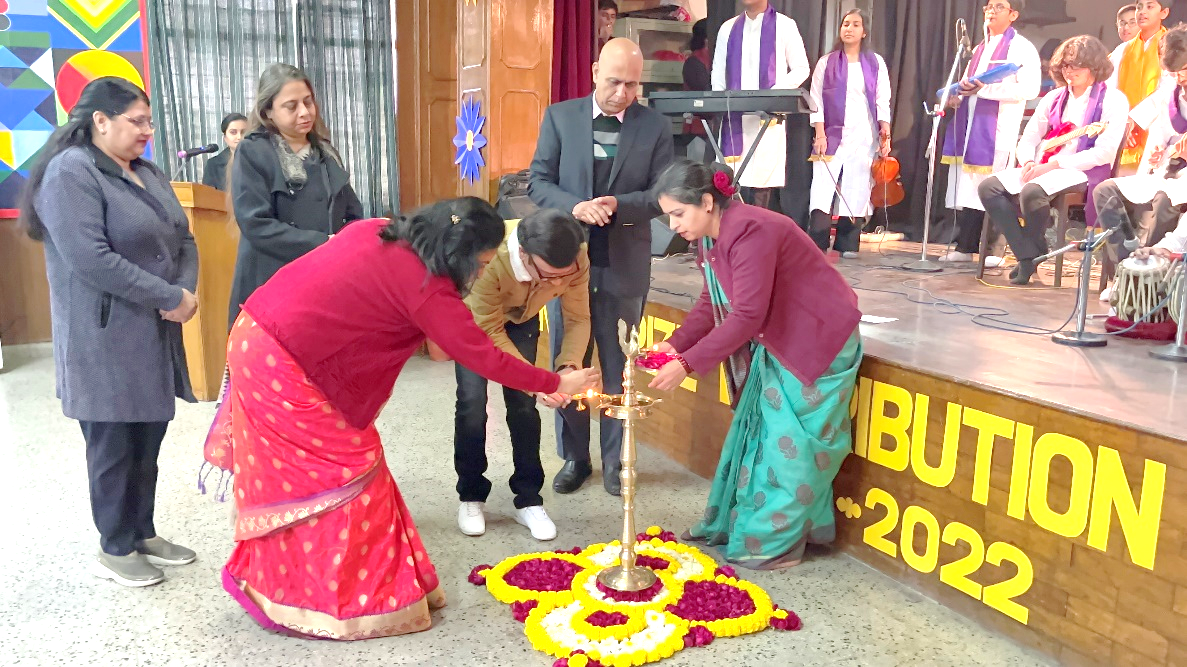 MERAKI (ANNUAL EXHIBITION)
As a constant endeavour to work for the holistic development of students, during and well beyond the school years, the Annual Exhibition 'Meraki- Creating with Passion' was organized on 24th December, 2022 by BBPS Manesar. The event witnessed zealous participation of the students of Classes IX-XII which unfolded their creativity, innovation & aspirations in multi-dimensional facets of Science, Robotics, Mathematics, Entrepreneurship, and vibrant Artwork. 100% participation of the students and their aesthetic work made the event a huge success.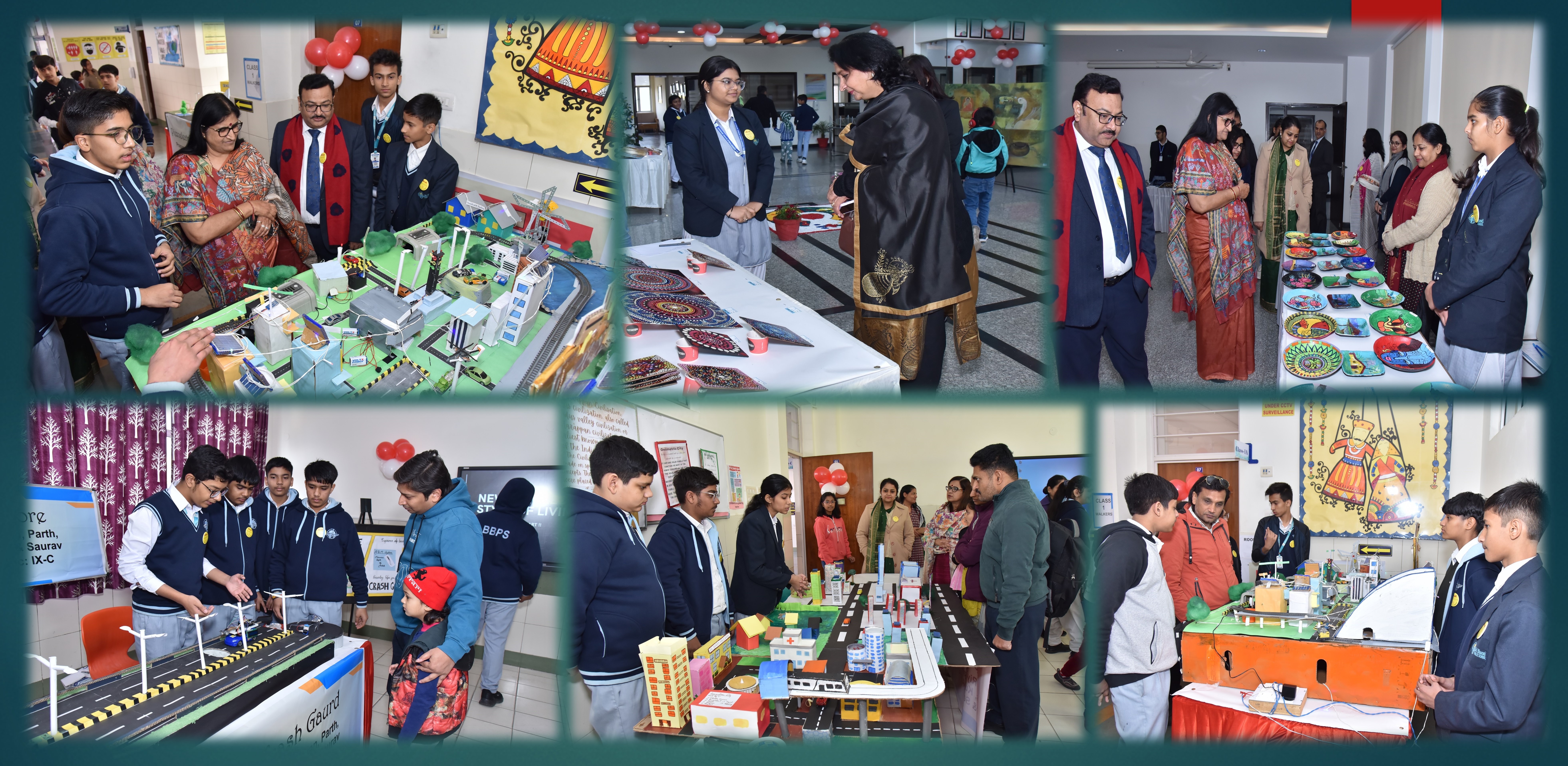 LEGAL LITERACY COMPETITION
Under the Student's Legal Literacy Program organized by the Department of School Education, Haryana in collaboration with the Haryana State Legal Services Authority, Divisional Level Legal Literacy Competition was hosted by Bal Bharati Public School, Manesar on 16th December 2022 in which all the winners of District Gurugram, Rewari and Mahendragarh participated. Mr. Ramesh Chander Bidhan, IAS Commissioner and Ms.Kala Ramchandran, IPS commissioner of police, Gurugram were conferred as the Chief Guests of the event along with Captain Indu Boken Kasana, District Education officer, Gurugram as the Guest of Honour. The event was a great success with around 180 participants in 10 competitions.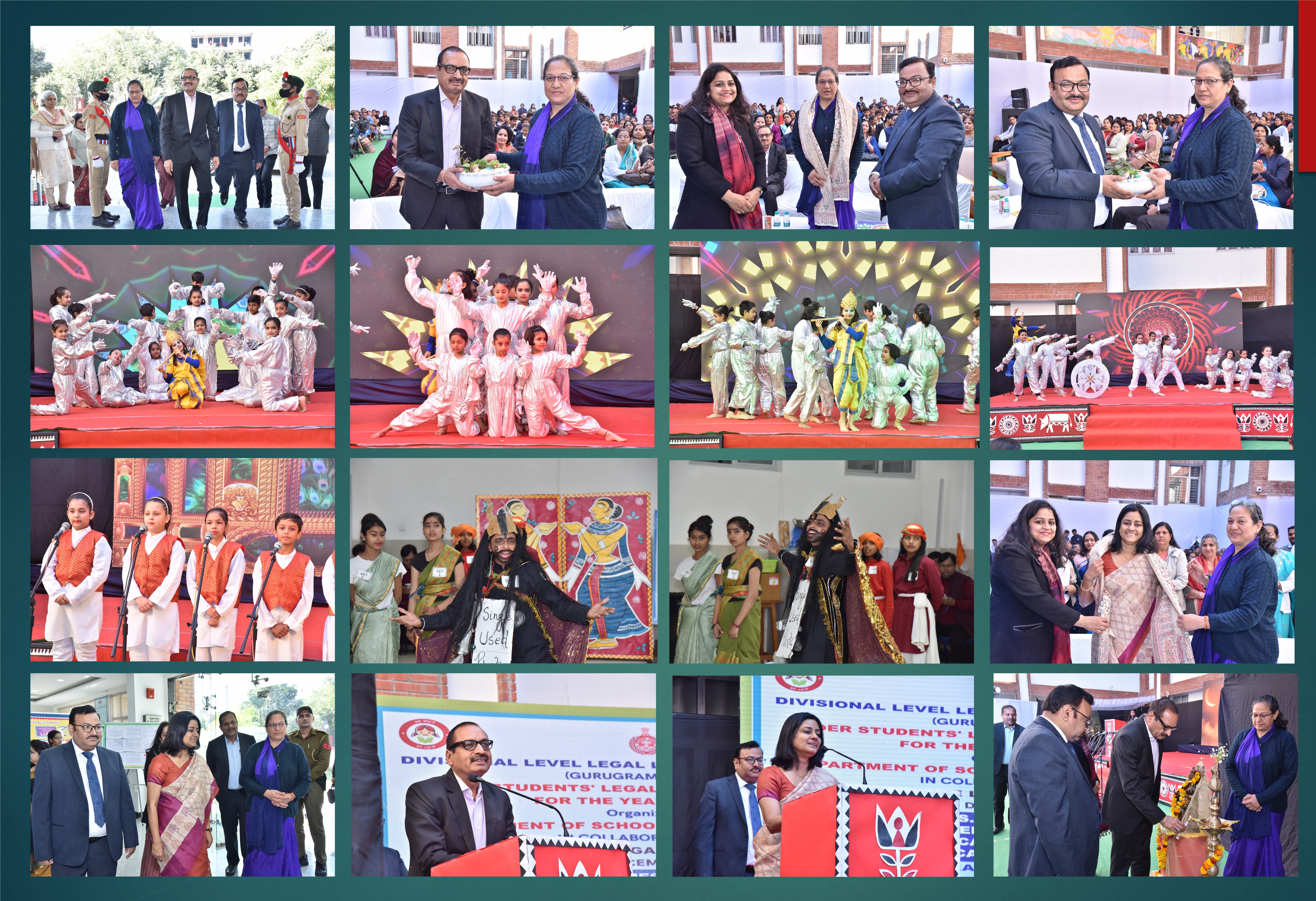 VIBGYOR
VIBGYOR , a cultural fiesta showcasing the exhibits of all the clubs of the school was organized on 06th August 2022 in Bal Bharati, Brij Vihar. Students presented live demonstrations on a range of subjects. A Nukkad Natak on women empowerment was performed by the Theatre Club, poems by poets from the Harlem Renaissance were featured by the Literary and Creative Skills Club, and live working models of rainwater harvesting and water conservation were displayed by the Nature and Heritage Club. The amazing idea from Interact Club was to sell handmade goods with the proceeds going to the relevant NGOs. Teen Consumer Club gave mind boggling presentations on the topics of the hour - Digital India, Smart Consumerism, Cyber Security and E-waste Management.
It is past time that we began to consider how to safeguard our planet for everyone and everywhere. Taking technological advancements to the next level, our school's Tinkering Club presented real-world examples of sustainable development objectives and their significance in the current situation. The robots that our young talent powerhouses constructed were displayed by the Robotronics Club. Healthy munchies were produced by the Health and Wellness Club and entertaning games were played involving the visitors. AEP Club displayed the acting abilities of its students by presenting a Nukkad Natak.
Bringing in a blend of International Goals and Mythological Tales, Montessori Department's theme was Sustainable Development Goals and they distributed saplings to encourage everyone to grow more trees. The students also performed the glorious Ganga Aarti Ceremony which is held every evening at Dashashwamedh Ghat. They dedicated their venue to one of the oldest cities 'Varanasi' , a city of Mahadeva.
Parents admired their children's artwork and supported and encouraged them during their performances at the school's yearly show. The highlight of this spectacle included aerobic performances, art and craft work - KIRTI, musical performances, and dance performances - ABHIVYAKTI. The visitors appreciated what our burgeoning talent houses had accomplished. This exhibit served as both a learning opportunity and a way to recognize the hard work and ability of our young folks throughout the year. All of our kids' arduous work was recognised and praised by all the dignitaries.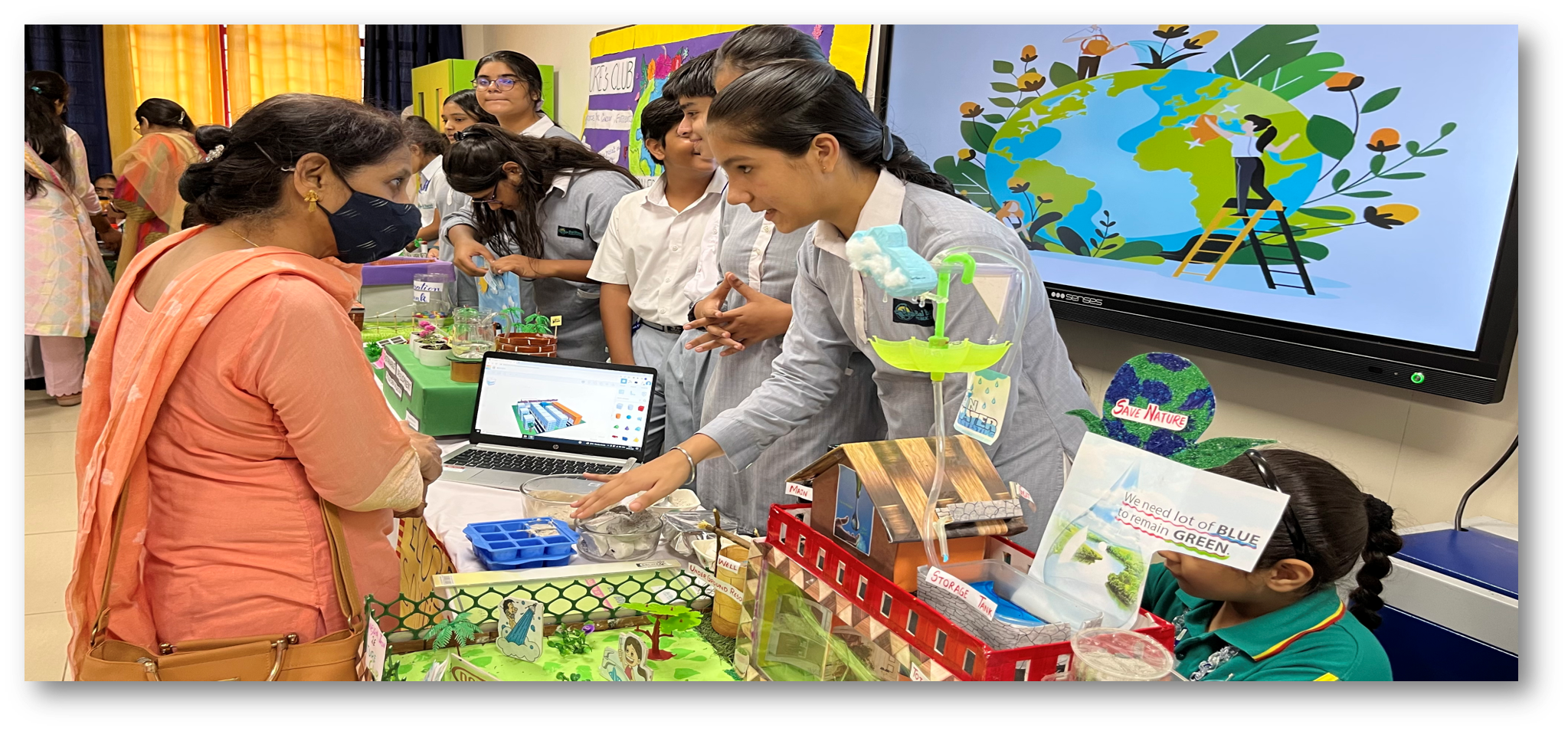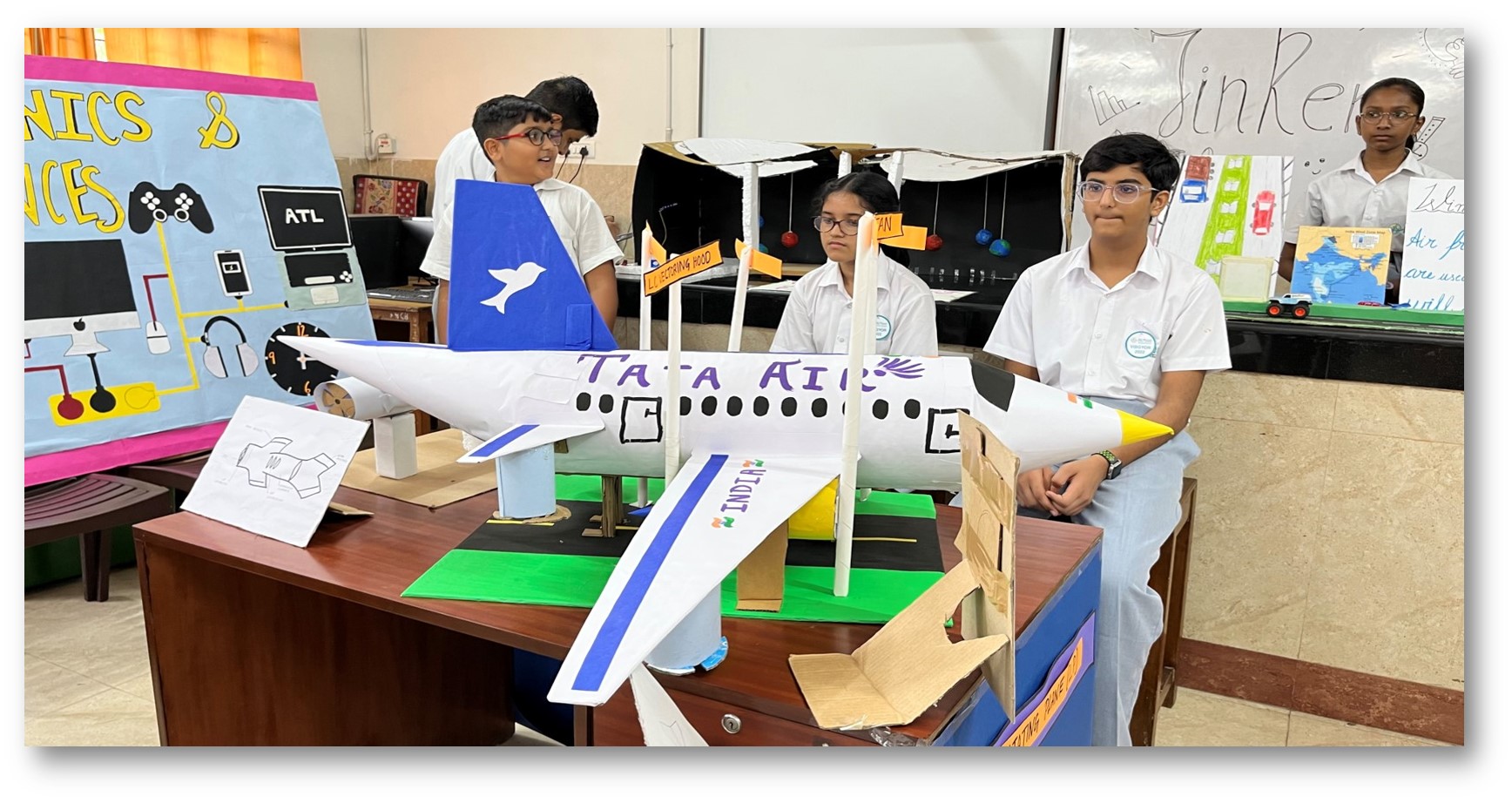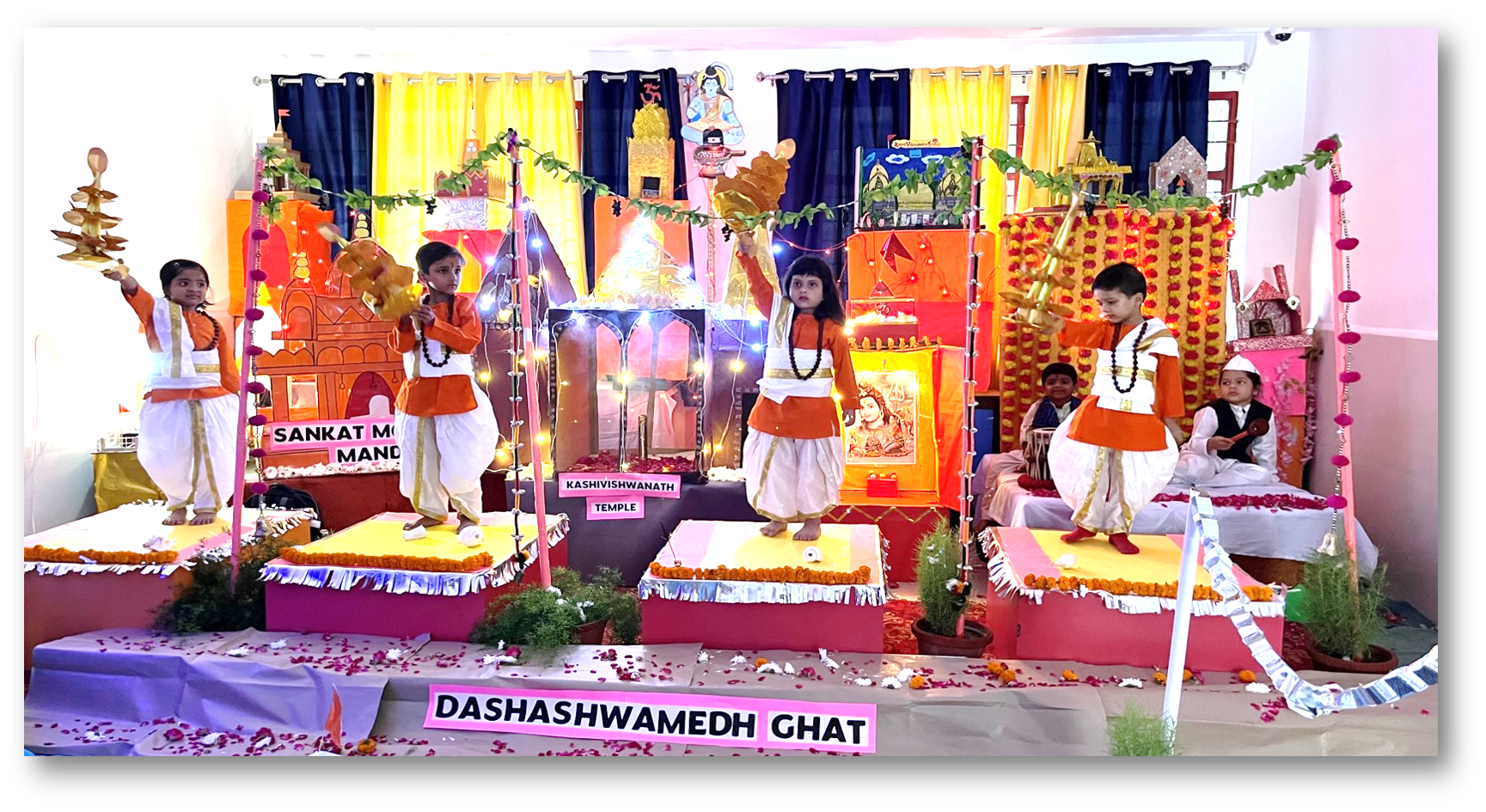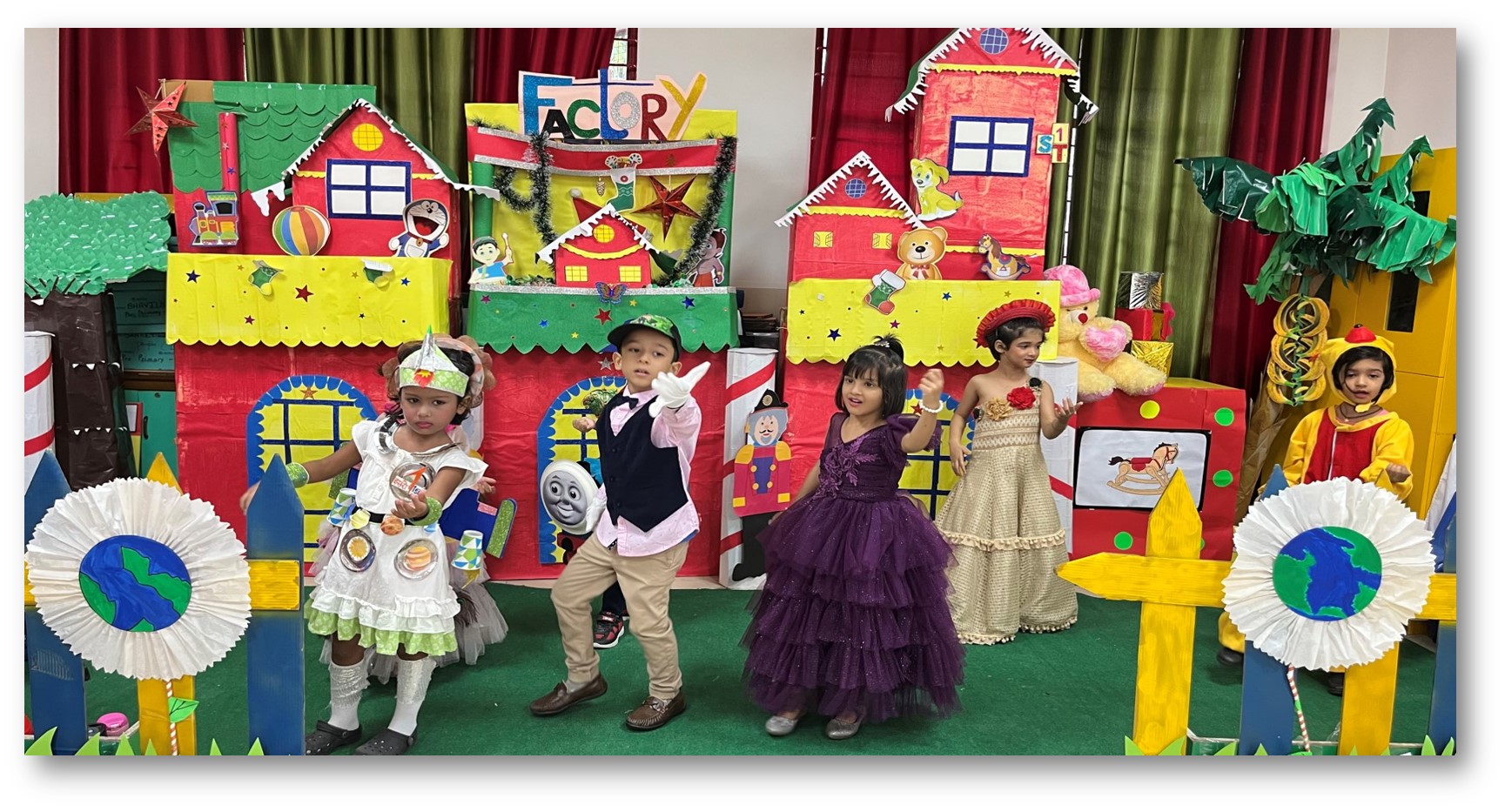 ANNUAL CLASS PRESENTATIONS
 BBPS, Manesar  organized Annual Class Presentations for Classes PS-VIII on various themes to motivate the students to showcase their skills and confidence, through Anchoring, Music, Dance and Dramatization. The opportunity provided to the students helped to boost their skills and strengthen a harmonious blend of the wisdom and learning that is imparted in them. The event witnessed 100% participation from each class and was a great success.